Introducing Delegate (YouTube)
If you know Lofty, then you know we build data-driven application for disruptive companies.
What you may not know is we often build apps for ourselves. After all, building products is what we're good at, so it stands to reason that when we encounter some problem in our business that building software to solve it is always an option.
That's how Delegate was born. We needed to manage all of the systems that make Lofty tick–the "how" of "how we do it here," if you've ever read Michael Gerber's The E-myth Revisited. Our project management tools could technically do it, but those tools are very good at managing software development. We build spreadsheets in the early days, and those worked better than nothing at all, but nobody could be truly accountable to their tasks with dozens of active spreadsheets floating around. As soon as we considered building a spreadsheet to track all the spreadsheets we said, "Enough!" And Delegate was born.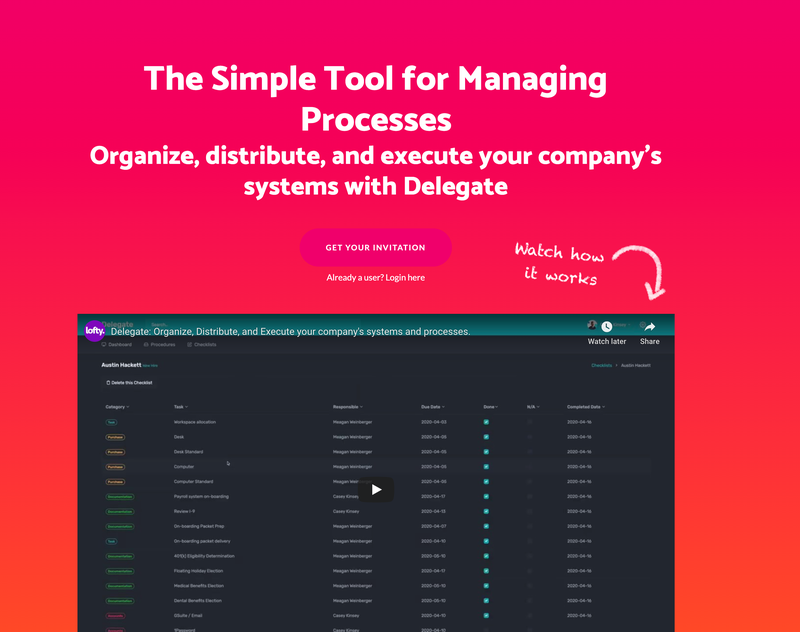 Delegate empowers business owners and managers to define all of the steps of their processes and systems in a unique way that lets people run those processes with the click of a button. Delegate keeps track of who is accountable and reminds your team members if things get behind.
We're really excited to publicly launch one of our internal products, and we're offering free pilots for the next 30-60 days to get some feedback from the market. Pilot access is by invitation only, but you can apply for an invitation at www.delegatehq.com